What is PASA?
The Pilipino American Student Association of California State University, Hayward is a diverse campus organization established in 1972 to promote the beauty of the Pilipino culture as well as deall with issues affecting the Pilipino Community and the community as a whole. PASA is committed to promoting, maintaining, and celebrating the diverse heritage of the Pilipino. PASA is one of the largest cultural organizations on the CSU Hayward campus.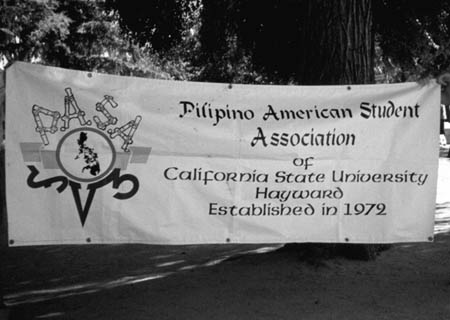 PASA Achievements
PASA has accomplished several achievements and made its mark on the CSUH campus. some of our events include the participation in the implementation of the Center of Filipino Studies, the first and onlyuniversity program of its kind in the United States.With the dedicated work of our Pilipino professors on campus, CFS has broguht a broad range of classes dealing with the Pilipino and Pilipino American into the CSUH curriculum, thus creating a Filipino/Filipino American Minor, also the first and only of its kind in the United States.
Another milestone at CSUH is the creation of the Pilipino Theatre class, allowing students to earn academic credit for participating in PASA's annuanl Pilipino Cultural Night.
PASA has also made its mark off campus by working with other community organizations. Last spring, we set up our first bone marrow drive with the Asian American Donor Program. We annually raise money and donate toys for the Philippine Children's Charity Fund.
The Future of PASA
The organization has a mission and a responsibility to the community to act as a representative of the PIlipino and Pilipino American. Its duty if to open minds and increase the awareness of our presence on and off campus.